Results Fitness Studio FAQs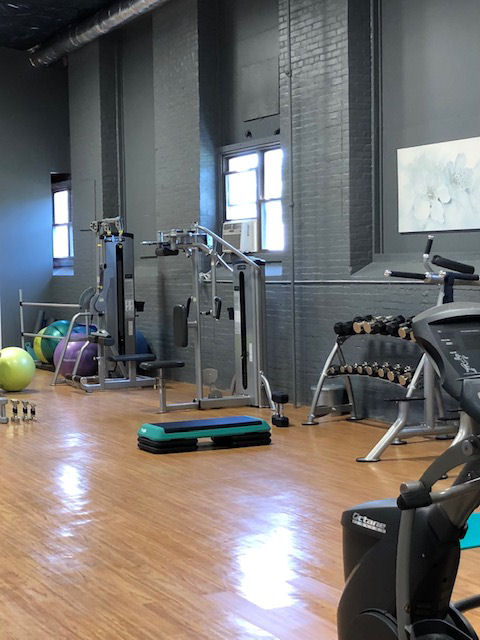 Thinking about joining us for a workout but have some questions on getting started? We hope this helps you get to know the Studio a bit better before coming in. Have more questions or want to schedule your first free session? Give Christina Linnehan, Results Fitness Studio Owner, a call at 603-718-0335 or email her at This email address is being protected from spambots. You need JavaScript enabled to view it..
Are beginner classes offered?
Yes! We cater to ALL levels of fitness. For some of our clients, the Studio membership represents the first exercise program they have fully committed to. In our small group training sessions, you may work out with other beginners, or you may exercise with clients of varied fitness levels. We know our clients well and quickly tailor each exercise to accommodate each of our members' strengths and abilities.
Struggle with mountain climbers? We will have you use a bench as a modification until you are ready to do a floor mountain climber. Hate planks? We will start your planks using your knees until your strength increases to do a full plank.
I am extremely fit. Will the Studio's workouts challenge me?
Absolutely! Just as the studio has plenty of beginners, many of our members have been working out for years, even decades. Our workouts are different every time; you will work different muscle groups, use varied weights, and try new exercises to keep you engaged and challenged. Just as you attain one fitness goal, we will present you with several more to strive for.
Great at push-ups? We'll challenge you with decline pushups, or pushups balancing on the bottom side of a Bosu. Have a super strong core? Take it up a notch with one of our famous t-shirt ab workouts!
I've sustained several injuries in the past. Can I participate in group fitness classes?
Yes, depending on personal preference, you will be able to participate in both group fitness classes as well as individual personal training sessions. Similar to the way we often modify exercises to suit different clients' abilities, we are also used to adjusting exercises based on any past injuries and/or current ailments.
What is the cost?
Group Training Sessions: $21/session buy in sets of 10, Boot Camp: $15/session, No membership fees and/or contracts. Call Christina Linnehan, Results Fitness Studio Owner, at 603-718-0335 or email her at This email address is being protected from spambots. You need JavaScript enabled to view it. to schedule your FREE session prior to joining the Studio.
Do I sign up in advance for classes?
Yes, our business model is appointment-based, so you will schedule your workouts ahead of time. For many of our clients, this represents one of the largest benefits to working out at our Studio, as most people are less inclined to miss a workout that they've scheduled in advance. With traditional gym memberships, it can be easy to skip your workout after a long day of work but with a scheduled workout you are more likely to be committed to your workout.
This being said, we understand that plans change and we are very flexible when it comes to accommodating clients' schedule changes.
What should I bring?
Clean sneakers and a water bottle. Some of our clients also bring their own small towels to use during workouts. Wear comfortable clothes you can easily move in; most of our clients wear leggings and t-shirts or tank tops. We provide drawers for storing your belongings during class. Have plans before or after your workout? We have two bathrooms with showers for your convenience.
Where do I park?
Free parking in the Millyard Technology Park; entrance to the Studio from the lot.
What membership benefits do you offer?
With group workouts typically being 3-4 people and never larger than 8, you'll enjoy a great deal of personal attention from an experienced trainer. This ensures that you perform the exercises correctly, helping to prevent injuries and allowing you to get the most out of your workouts.
In addition, we assist our clients with weight tracking and nutrition counseling. At any given workout, our clients are welcome to weigh in as well as have their measurements and body fat percentage checked. We also encourage our clients to keep a food journal, whether via a tracking app such as My Fitness Pal, or with traditional pen and paper. We will review any food journals submitted and provide feedback and helpful suggestions. We often run studio-wide initiatives, from daily walking/running challenges to quarterly weight loss contests, to keep clients engaged, motivated, and on track.
Aside from the direct benefits we provide, our atmosphere has emerged as a favorite aspect of the Studio for many clients. The small group training sessions foster encouragement, camaraderie, and fun! You will get to know your trainer as well as your fellow members on a personal level, motivate each other, laugh and joke around, all without compromising the challenging nature of the workouts that keeps you on track to attaining your fitness goals. Experience it for yourself; schedule your first free workout today by calling Christina Linnehan, Results Fitness Studio Owner, at 603-718-0335, or emailing her at This email address is being protected from spambots. You need JavaScript enabled to view it.. We hope to see you soon!
Save
Save
Save